Direct Mail
In the modern world of marketing, there are so many digital tools from Google Ads to Facebook ads to email marketing. While it's good for businesses to be on the forefront of technology and get in front of eyeballs on the screen, they shouldn't forget about offline marketing.
Before the age of the internet, companies took more ads out in newspapers and magazines, on billboards, on the radio, and through direct mail. While direct mail may have a bad rap, ahem, junk mail, it is still effective. In fact, a study by Canada Post found that it takes 21% less cognitive power to receive a message sent with physical media. That means your audience will likely remember your brand on a deeper cognitive level by receiving a postcard than with a flashing banner ad on their Facebook Newsfeed.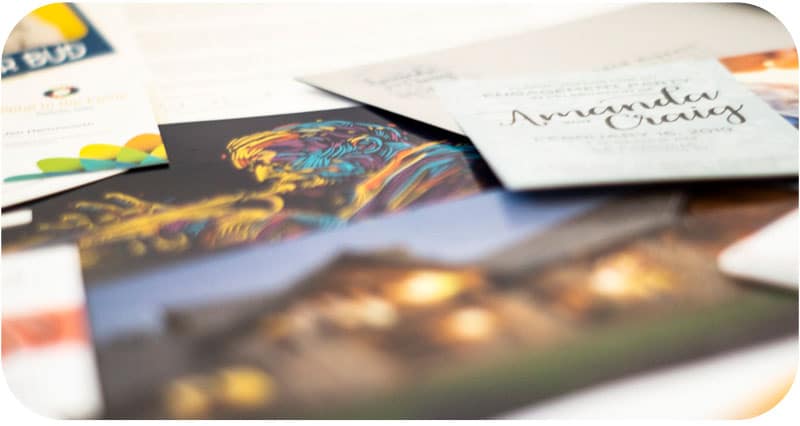 Physical advertisements are more memorable and can even elicit a more emotional response. The US Postal Service teamed up with the Center for Neural Decision Making at Temple University's Fox School of Business to conduct a study on how people interacted with physical and digital advertising. Here are some key takeaways:
Digital media was processed much quicker than print media, which could mean people simply scanned the ads
Participants spent more time with print media, meaning direct mail sat on counter tops and tables for longer
Physical ads tended to trigger a part of the brain associated with value and desire
Participants were more emotionally connected to print ads and remembered them longer
Furthermore, direct mail provided a 23% return on investment (ROI) according to Direct Market Medium. It seems people respond better to direct mail. 5.3% of recipients responded through an ad they got through the mail. That means you get 23% back of the cost you put in for a direct mail marketing campaign and significant responses.
Get Creative

You need your business's direct mail to stand apart from the bills and other ads. Lots of companies still use direct mail advertisements, usually sent on standard 6.5" x 9" postcards. Maybe instead of a postcard featuring your event, you can fold it up into origami. Imagine the recipient's interest when unfolding a cute little swan. They'll likely remember who they got it from.
Or maybe you can design an envelope that has your message cut out. The card inside can make the outline stand out, but can also provide more information about the event or product when taken out of the envelope. There are lots of different paper materials and finishes that can help your direct mail piece stand out, which our in-house designers can help you pick out.
 Be Bold
Large, bold lettering and a bright or memorable color palette can get someone's attention too. Paired with witty, creative wording, your brand's message can stand out with a bold direct mail advertisement.
This is where our in-house graphic designers come in handy. They are experts in this arena and can brainstorm different ideas for loud, attention-grabbing advertisements. The combination of imagery, colors, typography, and creative message can elicit a strong emotional response, and that's where you'll get conversions or attendance.
Get Personal
People actually do like getting mail, especially since there seems to be less and less of it besides bills. According to Compu-Mail, 73% of surveyed customers preferred direct mail advertisements; 57% said that mail made them feel valued.
Consider handwriting the name and address on the envelope, or signing your true signature at the end of the ad. It will show that you are taking the time to personally reach out to a consumer. It can also signify a certain level of trust, and we all know customers are more loyal to brands they trust.
We have offered direct mailing services at Digiprint since 1995. That means we have seen the trends of creative design and the rise of digital marketing. We can help brainstorm ideas that combine both direct mail advertising and digital marketing.
Let's Work Together
At Digiprint we will take care of all the details from crossing recipients off your mailing list to postage to printing. Our direct mail printing services are easy to use and produce exceptional results.
We have served the Reno/Tahoe community for over 30 years, helping businesses with all their printing and mailing needs. Give us a call to learn about our direct mail services. Or reach out to tell us about what your business needs to create direct mail advertisements. It's well worth it!